Hilary Hermecz Cunningham, PA-C.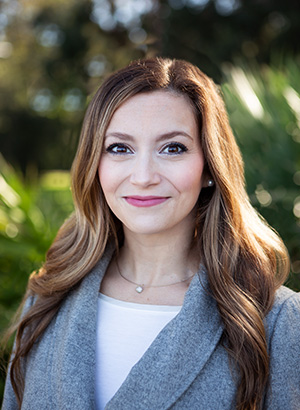 A career in medicine always felt like the right choice for Hilary Hermecz Cunningham, PA-C. Growing up in Fairhope, Hilary listened to her father, a physician, and her mother, a nurse, discuss their time caring for patients. After graduating from Fairhope High School, Hilary attended Auburn University where she received a Bachelor of Arts in Psychology. In 2015, she completed her graduate work as a Physician Assistant from the University of South Alabama. Hilary says, when caring for patients, the two areas of study go hand in hand. "Having that background in psychology has been helpful in giving me good insight into social situations, and why people sometimes make the choices they do."
While she is trained in multiple medical disciplines, including all aspects of primary care, Hilary moved to Atlanta after graduate school where she practiced for more than four years with pulmonary/critical care physicians in a hospital setting. On a visit home one Christmas, she met her husband to be, William Cunningham, and in 2020 took a job closer to home working in the pediatric intensive care unit at USA Children & Women's Hospital. The couple married in June of 2021.
As a Physician Assistant at Bay Medical, Hilary sees patients of all ages for both acute and wellness visits. She enjoys the opportunity to build patient relationships and to care for multiple members of the same family. And of course, Hilary points out, there's no place like home. "It's really nice to be back near my family and in a small community where people know one another."
When not at their day jobs, Hilary and William enjoy time outdoors, cooking, traveling, and recently, a few home improvement projects to help them settle into their life together.