Dr. Hall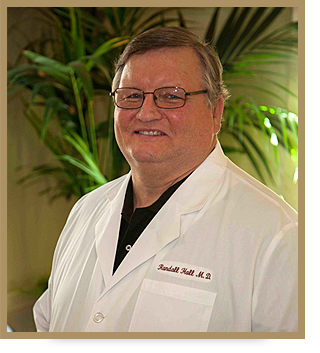 Randall Hall, M.D. belongs to an elite group of physicians who played college football while majoring in pre-med. A member of The University of Alabama's Crimson Tide football team from 1972 through 1974, the gregarious, Academic All-American knew, even before he set foot on the gridiron, his love of science and of people meant he was destined for a career in family medicine. Hall's coach believed in him too. "On the Bear Bryant Show each Sunday, Coach Bryant would refer to me as Dr. Hall," he says. "Although I really think it's because he forgot my first name," Hall jokes.
Coach Paul "Bear" Bryant did make a few phone calls helping Hall receive scholarship dollars for medical school at The University of Alabama School of Medicine. Following the completion of his family practice residency at The University of Alabama, Huntsville, Hall and his wife Karen settled in Geneva, Ala. where he practiced for four years before joining a group in Pensacola, Fla. Hall joined Bay Medical Family Practice in February 2000, a move that brought him closer to his Crimson Tide roots.
Hall is a diplomat, American Board of Family Practice and a Fellow with the American Academy of Family Practice. Along with his practice at Bay Medical, Hall is the medical director at Southern Care Hospice, Oakland Place ALF & Alzheimer's Facility, Eastern Shore Health & Rehab, and the William F. Green State VA Home.
The Halls have two grown children. His son Jeremy received his Master of Divinity and works in Atlanta. Hall's daughter Olivia is a student at The University of West Florida. It's no surprise family members are huge fans of Alabama football and Hall counts among his hobbies following all University of Alabama athletic programs.